The Argent Ball

The Argent Tournament
Basic information
Population
Good question
Faction
Neutral
Location
The Argent Tournament Grounds, The Argent Tournament
Saturday 15th of May is "The Argent Ball", hosted by "The Argent Vanguard" guild. The event is due to start at 17:00 GT at the Temple of The Moon, moving later on to The Argent Tournament Grounds.
With the fight against the Scourge still raging, it is important to remember those soldiers who gave their lives protecting us all. And so
The Argent Vanguard are hosting "The Argent Ball". A night of fun and games, of drinks and treats, and most importantly a celebration of good's triumph over evil. We invite all of you to join us in the Temple of the Moon, moving on to the wondrous Grounds of the Argent Tournament, up north in the glacier we know as Icecrown. With the Ever Vigilant gaze of the argent crusade, what better place to celebrate life, the light, and it's glorious unifying power.
We ask all those attending to arrive in fancy dress, with the best costume being awarded with an exciting little prize. Throughout the evening our staff will provide everyone with drinks and food, and to make the night even more enjoyable, we hope to entertain you all with a variety of games and of course dancing with occasional jousting contests.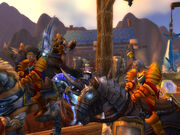 This event is classed as a RP event, therefore we ask that those attending keep IC as much as possible, and in some cases excessive use of OOC could result in exclusion from the festivities.
For more information or an invite, contact Tariya, Drágonblade or Xathriel in game, or their active Alts, Loríen, and Zalfurion.
Ad blocker interference detected!
Wikia is a free-to-use site that makes money from advertising. We have a modified experience for viewers using ad blockers

Wikia is not accessible if you've made further modifications. Remove the custom ad blocker rule(s) and the page will load as expected.